Varaa ryhmävierailu tai opastus ennen hinnastopalaa sisältö englanti
Reserve a group visit or guided tour
Groups can explore the museum on their own or reserve an introduction or guided tour.
Please always inform us about your group visit in advance, so that we are able to avoid crowding in the museum. We can also occasionally be flexible about our opening hours and receive a group outside the official opening hours.
Let us know in advance if you are arriving as a group
You are welcome to familiarize yourself with our exhibitions independently, but please inform us about your arrival in advance (tel. +358 295 418 325, [email protected]). This way we can avoid overcrowding and make everyone's museum visit better.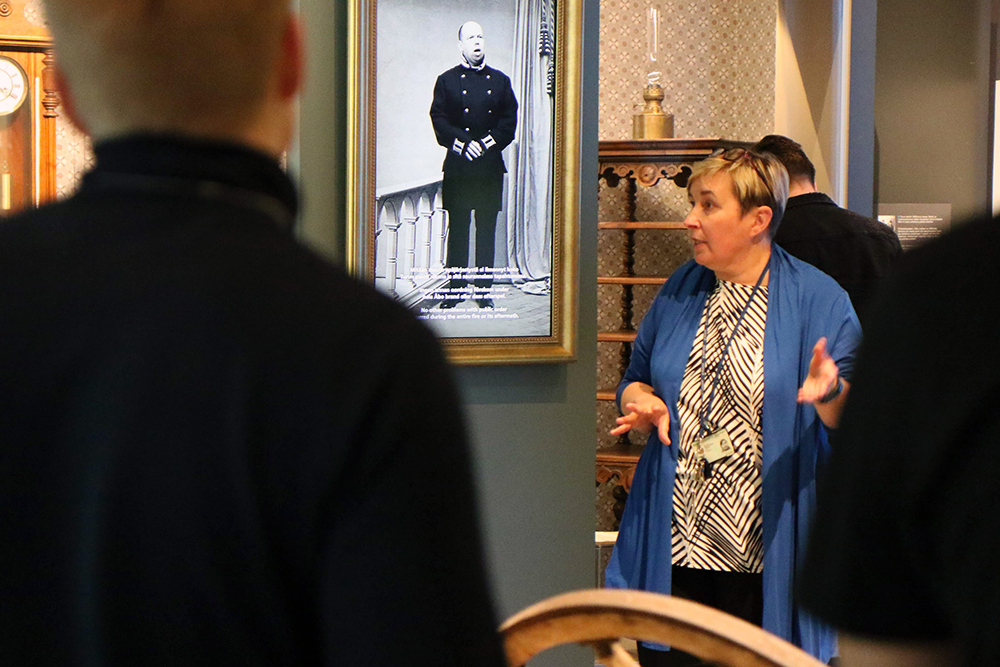 Photo The Police Museum
Order a guided tour or introduction
We only offer guided tours in Finnish. However, we will happily offer English and Swedish-speaking adult groups brief introductions to the museum in their own language, as long as the introduction is booked in advance. These short introductions are free of charge.
If your group has an interpreter of its own or if, for example, the group leader can interpret what our guide is saying, a guided tour is also possible in languages other than Finnish, both for adults and children. Guided tours are chargeable.
We organize guided tours for groups on weekdays. We plan our guided tours with the target audience in mind: a tour offered to kindergarten children is, of course, different than one offered to adults. A guided tour usually takes 30 to 45 minutes.
Groups receiving a guided tour can include up to 25 persons, so that all participants hear and see well, and also to ensure that the tour is a pleasant experience in other ways. We recommend a minimum age of five years to our tour participants. You can find more information on guided tours for children in the section Visiting the museum with children.
Payments are accepted via bank and credit card or in cash (exact change only). We recommend paying by card. Companies, associations and actors in the public administration can also pay by invoice.
Hinnasto opastushinnat sisältö englanti
Guided tour prices
Schoolchildren and students Tue–Fri 10 a.m.–3 p.m.: EUR 30 (VAT included)
Schoolchildren and students Tue–Fri 4 p.m.–6 p.m.: EUR 45 (VAT included)
Other groups Tue–Fri 10 a.m.–3 p.m.: EUR 70 (VAT included)
Other groups Tue–Fri 4 p.m.–6 p.m.: EUR 90 (VAT included)
Varaa ryhmävierailu tai opastus hinnastopalan jälkeen sisältö englanti
Reservations
The easiest ways to reserve a guided tour is by calling the Police Museum reception, tel. +358 295 418325. Our reception is glad to accept reservations from Tuesday to Friday during the museum opening hours. At other times you may contact us by email [email protected]. Include the following information in your email:
the name and phone number or email address of the person making the reservation
the desired date and time of the tour (we recommend also mentioning alternative dates and times)
the size of the group
any wishes concerning the contents of the tour.
Please make sure to book your guided tour well in advance!
Please also remember to inform us if your visit is cancelled and you do not require an introduction or guided tour. Inform us about your cancellation at the latest on the preceding day by 4.15 p.m. For guided tour reservations that have not been cancelled, we will charge a payment according to our price list.
Varaa ryhmävierailu tai opastus linkkilista oikea palsta englanti